Projects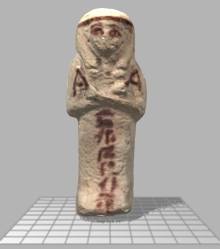 3D Petrie Museum
Since 2009, The Petrie Museum of Egyptian Archaeology at UCL, in collaboration with UCL's Department of Civil, Environmental and Geomatic Engineering and business partner Arius 3D, has been developing a groundbreaking programme for creating 3D images of objects in the Petrie collection.
The aims of the projects are:
To develop a viable workflow for the production of high quality 3D models of museum objects, in particular using colour laser scanning.
To develop a range of digital 3D applications that will engage audiences.
To undertake audience evaluations of the 3D models and applications to better understand the potential of 3D in cultural heritage.
https://www.ucl.ac.uk/3dpetriemuseum/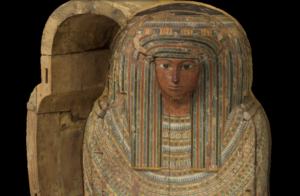 Book of the Dead in 3D
Egyptian coffins are inscribed with spells and images which stand in for spells. All function together as a machine to resurrect the deceased and to guide them safely through the next world. Given this function, its perhaps surprising that the texts from coffins are usually published completely divorced from their position on the coffin. Any additional meaning conferred on the texts by their placement on the surrogate body or relative to each other and the vignettes is lost. In order to understand a coffin as a magical machine, it's necessary to view the spells in 3D so that this relationship can be taken into account.
The aim of this project is to explore the relationship between texts and their positioning on a magical object through building annotated 3D models of coffins displaying the texts and translations.
https://3dcoffins.berkeley.edu/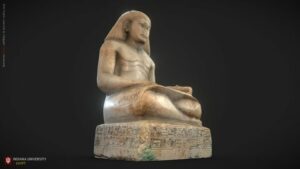 Egyptian Sculpture Digitization Project
The Department of Near Eastern Languages and Cultures (NELC), based in the Indiana University Hamilton Lugar School of Global and International Studies, and the Virtual World Heritage Laboratory (VWHL), based in in the Indiana University School of Informatics and Computing, in collaboration with partners at the Brooklyn Museum of Art and the Indiana University Eskenazi Museum of Art, are digitizing in 3D important examples of ancient Egyptian sculpture. It is anticipated that this digital collection will be continually expanded as other museum partners are added.
http://www.digitalsculpture.org/egypt/
Merib and Metjen
3D scans were used to rebuild and consolidate the offering chapels of Merib and Metjen in the Neues Museum in Berlin.
3D models on Sketchfab
Allard Pierson
Amara West
ARCE
ArchITCologne
Athoris
Book of the Dead in 3D
British Museum
Chicago House
David Anderson
Garstang Museum
Harvard Museum of the Ancient Near East
Ibrahim Mustafa Ibrahim
Indiana University
Kunsthistorisches Museum Wien
Museum der Universität Tübingen
RMO Leiden
Rosicrusian Egyptian Museum